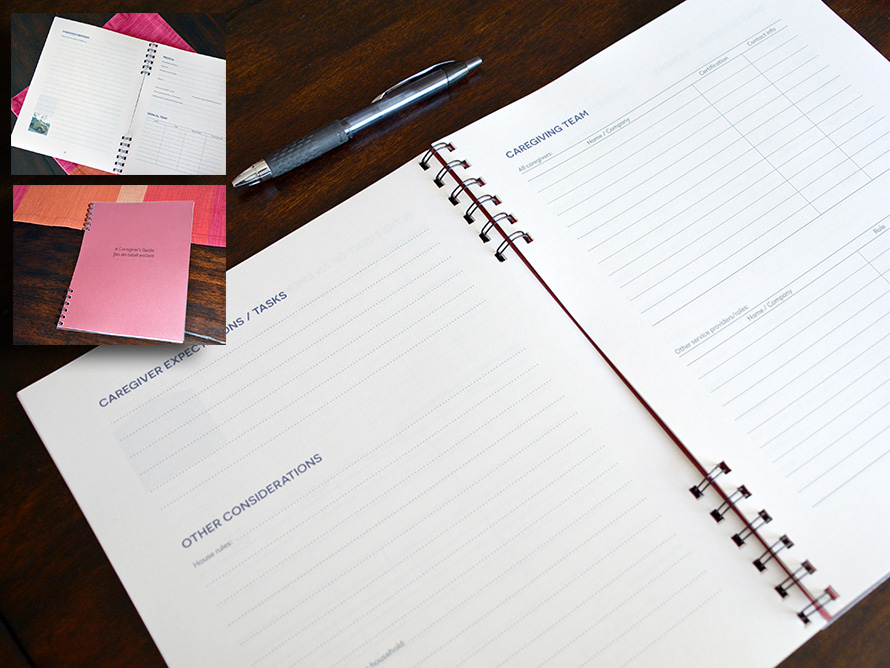 Purchase now      |        Ask about bulk orders
When it's time to hire a caregiver for your loved one, help foster a meaningful relationship between the caregiver and patient with A Caregiver's Guide for an Adult Patient. This book will help you capture the patient's story and serve as a reminder for the caregiver of the patient's likes and dislikes – including favorite foods, hobbies, cultural tendencies, family relationships and everyday scheduling. It also includes important medical information and allows day to day medical record keeping. With your input, this book will not only be a cherished family keepsake, but also a valuable resource for your caregiver.
Created by someone who has been a caregiver and hired several caregivers for multiple loved ones, this book helps bridge those complex generational and cultural gaps that can oftentimes create misunderstandings. It thoughtfully allows a caregiver to understand the life of the patient prior to their illness and time of need.
The book contains scenic photography taken on the writer's travels. It measures 8.5"x11" and has been created using a premium shimmer pearlized paper that is elemental chlorine free, FSC and green-e certified, carbon neutral, and made using wind power. The book includes 25 pages to record patient preferences, cherished memories, conversation starters, medical history, medications to be administered, caretaker reminders, scheduling notes, daily progress records and other helpful patient information.
For an additional fee, the cover can be personalized with your loved one's name if desired. After selecting the "custom cover" option, please include your loved one's name in the note section of your order when making your payment.

Purchase now      |        Ask about bulk orders