Each book is designed to build relationships for your specific audience and will become a treasured keepsake.
A Caregiver's Guide For An Adult Patient
A Caregiver's Guide for an Adult Patient was created to capture the patient's story and remind the caregiver of the patient's personal preferences – including favorite foods, hobbies, cultural tendencies, family relationships and everyday scheduling. After serving as a caregiver and hiring several caregivers for loved ones, Lara Vineyard created this book to honor those that may need an extra hand – even if they may sometimes be hesitant to ask for help. This book also bridges the complex generational and cultural gaps that can oftentimes create misunderstandings.

Purchase now        |      Ask about bulk orders
---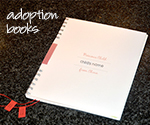 Adoption books are tailored to the specific country's adoption experience and utilizes the appropriate language.
Journals can also be personalized with the family name and child's name.
Versions for both single parents and dual parents are also available for families adopting infants and older children.
We also have a version that can be customized for any country of adoption.

See purchasing options
China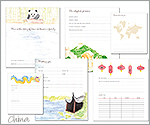 The first journal created was inspired by an adopted boy Lara met from China more than 10 years ago. While grocery shopping, Lara was captivated by a young boy who was infectiously singing "I am so happy" over and over and beaming joy. This special needs child was adopted by a loving and devoted single mother. This experience motivated Lara to create a single parent/older child version of this book. She created this book in collaboration with her gifted 13-year-old niece Isabel Vineyard who painted the vivid watercolor backgrounds.
Ethiopia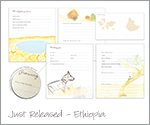 Released in February 2014, an Ethiopian version of the journal is now available! The bright water color illustrations were created by Lara's 10-year-old niece, Kylee Sanderson. The language is customized to the Ethiopian adoption experience and influenced by Lara's dear childhood friend who recently returned from Ethiopia with a beautiful baby girl with an amazing spirit.
If you have a specific country or situation that you would like to document, please contact us!
---
"They say the best gifts are those given from the heart. My favorite gifts are ones that evoke special memories years later… many times these gifts are just encouraging words in a thoughtful note, or an excuse to share a story. I hope some of these will be your favorites to give and receive."